Congratulations! You're pregnant – you must be so excited!
If you're also a little overwhelmed and daunted by the HUGENESS of expecting a whole new human! – then this post is for you.
Now you're starting to get over the shock and delight of that positive pregnancy test, there are so many things to do before baby arrives but this list will get you started!
They all need to happen before your due date but don't panic – they're arranged by trimester so you won't get overwhelmed.
(If you Pin this post, you will be able to come back to it later on in your pregnancy.)
This post contains affiliate links, which means that I receive a commission, at no extra cost to you, if you make a purchase after clicking on my link. You can find our full disclosure policy here.
Things to do before baby comes – the first trimester
Right after you find out you're pregnant there are a few things you need to get done FAST.
Let your doctor know that you're pregnant
As soon as you know you're pregnant, tell your doctor or midwife. They may not want to see you for a few weeks yet but the sooner you register your pregnancy, the better.
You'll have an initial appointment to go through what your maternity care will look like, take bloods for initial checks and ensure you are in good health.
Stop smoking and drinking
Smoking and drinking alcohol can have harmful affects on your baby so stop as soon as you can. If it's not that simple – and it's probably not – don't think twice about getting help. This is so important for your baby's health and development so get in touch with your doctor to find out what support is available to you.
Get your pregnancy supplements
You will need to start taking folate supplements as soon as you know you're pregnant. Folate helps with the development of the baby's spinal cord and it's as simple as a tablet every day so don't put this off. This is very important to help prevent neural tube defects.
Pregnancy vitamins
For optimal health for you and the baby you're carrying, a prenatal vitamin supplement is a great start.
Here's a wider selection of vitamins specially formulated for pregnancy.
Start eating for pregnancy
As you probably know, there are certain foods that you should avoid when you are pregnant to prevent possible harm to your baby.
Start by cutting out
Liver and pate

Unpasteurised milk and dairy products

Undercooked eggs
Certain dairy products
This is not an exhaustive list but, if you need one, here's a useful resource to get you started eating right for both of you.
Save as much money as you can
Even if you are frugal and careful with your money, having a baby will increase financial pressures.
If you choose to have one parent stay at home to look after the baby, that will mean living on one income. On the other hand, if you both continue working, there will be childcare costs to consider – and this can eat up a LOT of your income.
For that reason – as well as the cash you will need to pay for all the other baby items along the way – take stock of your finances NOW. See where your money is going and where you could save and you will have more money when you need it.
Shop for maternity clothes
Unless you happen to have a tiny bump, you will need some maternity wear. Go crazy with a whole wardrobe if you like, but a few outfits for work and some comfortable clothes for home are all you really need.
Pregnancy is the perfect excuse to live in yoga pants like these – and they're great value!
Used bundles of maternity clothes from Ebay are often an absolute steal if you're looking to save money.
Things to do before baby comes – the second trimester
Hooray! You have had your scan and now you can let your big secret out!
Tell everyone you're pregnant!
Go ahead and announce your pregnancy – low key or kooky or OTT – it's up to you. Now's the time to let everyone who matters to you know that you will soon have an extra family member.
Get ready to breastfeed
If you think you might like to breastfeed – or you KNOW you will – get yourself off to a great start with this steal of a breastfeeding course from Milkology.
All the benefits for you and baby and all the practical how-to knowledge to get you off to a great start are are included.
If you've never breastfed before (or want a refresher!) this course is for you. Start learning now and when you meet your baby you'll know exactly what to do to establish breastfeeding and get your latch right from the start.
You're going to love it!
And the bonuses you'll find inside the course are amazing – including codes for a free nursing pillow and free breastfeeding cover!
Buy The Ultimate Breastfeeding Class for only $19
Related: 6 ways breastfeeding can crush you and how to fix it
Decide whether to go with cloth or disposable nappies / daipers
Why is nothing about babies ever easy? There are just so many decisions to make and so many people out there just waiting to judge us whatever we do.
Cloth nappies are less wasteful but more work. They do look incredibly cute, though. Disposables are an environmental nightmare. What's a mama to do?
Daiper Dabbler
When it comes to disposables, there are just so many brands out there and the ALL claim to be the best / driest / easiest to move in. But now you don't have to take their word for it because you can try them all for yourself with Daiper Dabbler.
If you'd like to try disposables and you're in the USA, Daiper Dabbler offers a selection of daipers of each of the most popular brands in a bundle for you to try.
You get a certain number of each brand in the pack so you can try each brand for a few changes and see how it goes. Does it leak? Does it slip down on your baby or is it too tight or not as absorbent as you would like? You'll find all this out without having to buy multiple entire packs of daipers.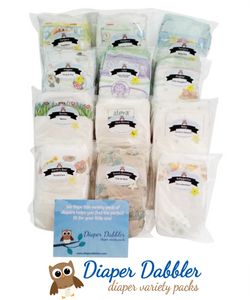 When you settle on a particular brand it'll be because you KNOW that one is the best for your baby.
Click here to order your variety pack now.
Washable nappies
If you'd like to try cloth, there are some adorable designs to choose from, like these. Click the image to find out more.
Plan where to give birth
Now is a great time to think about where you want to have this baby. Would you like a cosy home birth or do you prefer the proximity of medical help in a hospital?
Discuss all your options with your partner, family and medical team and then tour hospitals and birth centres if you need to.
Take a prenatal class
Is it too soon to take a prenatal class? Actually, this is a great time to sign up because you'll be so busy in the third trimester.
I was so anxious before my first birth (and the second, actually, because it had been ten years and I had forgotten EVERYTHING) wondering what it would feel like to be in labour and how I would cope with the pain.
Not knowing what labour signs to look out for or what would happen at the hospital only made it worse.
I went to a prenatal class at my local hospital and it was a great decision – I learned what I needed to know and was able to ask questions and get to know all the logistics.
Things have moved on, though, and now you don't have to squeeze in a prenatal class in the middle of your work day.
This popular online prenatal class from Pulling Curls is perfect for you if you're busy but still want the confidence that comes with learning what to expect from your labour and birth. You can read my review of the course here for all the details.
What would it feel like to be ready for your birth, clear on what you have to do and what you need from your partner and care givers?
Click here to get started on The Online Prenatal Class for Couples
Related: The Online Prenatal Class for Couples – a review
Make a plan for your other children
Who will look after your older children and pets while you are having your baby? If you haven't already told grandma that she's on standby, perhaps now is the time.
If you plan a home birth, you will still need to arrange for your children to be looked after and probably away from home.
Tell your work that you are pregnant
The people you work with every day probably know that you are pregnant but what about Human Resources? No matter where you live, you will have to give your employer official notice that you are pregnant and will require maternity leave. The format and how far in advance will depend on your local regulations.
Check with your HR department and line manager to see what you need to do.
Set up your baby registry
It probably feels a bit soon to do this, but friends and relatives will be glad to have extra time to find you the perfect gift.
If you'd like some say over what gifts you receive for your baby, set up a baby registry. Many larger retailers offer this service but Amazon's is easy and comprehensive.
On the other hand, you could also request no gifts if you have multiple kids already and you'd rather have a less cluttered home….
Plan for maternity leave and beyond
If you haven't already done so, now is the time to plan for your maternity leave and beyond.
Do you want or need to continue working?Perhaps you could work from home or benefit from flexible working provisions from your employer.
How will you be affected by income changes or baby-related expenses such as childcare? Perhaps these tips for saving on childcare will help you.
Whatever you want to do, start to do some research because this baby will be here before you know it. Set aside some time to run the numbers so you can make difficult decisions based on facts.
Things to do before baby comes – the third trimester
Time to prepare yourself for the birth and stock up on the baby essentials.
Get a baby car seat
Your baby will be here soon so it's time to prepare to transport them home safely.
Unless you never travel in a car – which is pretty unlikely – an infant car seat is a must. This is one of the most important purchases you'll make for your baby so do your homework.
This is the # 1 infant carseat in the USA!
Get some sleep!
Your bump will be getting big by now so it might be getting harder to get comfortable in bed – or anywhere. If you don't want to surround yourself with 17 pillows every night, try one of these pregnancy body pillows to get you the support – and rest – that you need.
Labour hurts. There's no getting around it but there are definitely ways to make that pain more manageable and bearable.
Hypnobirthing is one of those ways and involves putting yourself into a state of hypnosis where you are able to deeply relax and follow your instincts.
My third labour was infinitely better than the first two – and all because I put my heart into learning hypnobirthing techniques. I felt in control for far longer than ever before and was able to cope with my pain by controlling my breathing for the majority of labour.
I'm just so glad I took the time to do it. You can read about my experiences with Hypnobirthing here.
Hypnobabies offers self-study resources for mums-to-be who don't have a local class available – or who can't make it because of their commitments. It has a great success rate helping women just like you have more natural, peaceful births.
Click here to learn more about Hypnobabies self study course and order yours.
Prep your nursery
Did you manage to wait this long? It's time! Go ahead and create a beautiful room for your new addition.
Even if you plan to have your baby sleep in your room to begin with, you will want a place for all the baby clothes and paraphernalia to belong.
There's really no need to go out and spend hundreds on a matching hardwood nursery set – though, of course, you can if you want. If money were no object, I'd buy this! That classic mid-century modern styling, mmmmm!
But for most of us, money IS an object – and you will still need a cot or crib. Look into getting one either new or used. You might even find that your own parents have kept your crib so you could update and restore that for your new baby.
A small wardrobe and a dresser that can double as a changing station and your nursery is complete.
Get your baby announcement ready
…and politely remind your friends and family NOT to jump the gun and post about your baby on social media before you do!
Batch cook meals for after baby arrives
You might have heard that it'll quite tough when your baby arrives – well, it's true. You sleep will be way off whack but you'll still need to eat, as will the rest of your family.
To avoid having to try and come up with amazing meals even though you haven't slept in days, use the weeks before your baby's birth to batch cook meals and freeze them. (If you have the energy!)
One great way is to make a huge pot of something, eat it for that night's dinner and pack away the rest for two or three other nights later on. If you do that a couple of times a week for a couple of months before your baby is due, you could have a month of meals – or even more – frozen and ready to go. Totally worth your time.
Organise baby clothes and toys
This is an easy place to save money – if you don't mind second hand. Bear in mind that you will probably receive a ton as gifts and secondly, your baby will grow so quickly that those gorgeous little outfits you pick out so carefully now will be worn only a couple of times before they are too small.
Friends, colleagues and acquaintances may come out of the woodwork, desperate to help you out (declutter their own houses) by handing over big bags full of perfectly good baby clothes.
Just take them! It's so much fun going through what you receive, finding lovely little gems and enjoying that facts that they were free and you're being eco-friendly by reusing.
Later on, when your baby outgrows them, you can pass them on to another family and continue the happy cycle.
If no-one give you free clothes, cheap bundles are easy to find on Facebook marketplace. Give yourself plenty of time so you can grab a bundle at a great price instead of having to pay more because you've no time.
Tiny babies don't need anything but you – but that won't last! A gorgeous baby gym is a must (I literally waited YEARS to have a baby so I could buy this Ikea baby gym! (It's a lot cheaper in the actual shop!)) and here's a list of great wooden toys for babies to inspire you.
Get a pram / stroller
Just about every parent will want a pram or stroller for their new baby. Depending where you live, you might prefer a lightweight, compact design for taking on public transport easily or a heavy-duty off-roader with huge tyres and great stability.
On big ticket items like these you can save a fortune by buying second hand. A used stroller might not be as shiny and pretty as a brand new one, but it will do the job just as well and leave more money in your pocket for when baby comes. Just check it's in good order before you put your precious baby in it.
If you plan on going off-road, pick a big-wheeled option like the Out N About Nipper. Sturdy but easy to manoeuvre with one hand, it's a great investment – it'll last through all your babies and still sell well used.
Get a baby carrier
I love a good sling – carrying that squishy, snuggly baby tight in to my body is one of my favourite things about early motherhood. They're great for off-road walks and for convenience because a baby carrier can go wherever you can go – and that's not always true of a pram.
There are tons to choose from. Wrap style slings like these are very popular – basically a huge swathe of fabric that you tie around you and your baby in a particular way.
Loads of people love wrap slings but if you loathe them like I do (!) – I just can't get the tie right – you could try something with a little more structure like this Mei Tai that I have loved through two babies.
When they were tiny, I filled it with blankets to support them and it grows with them right through to toddlerhood.
Related: Awesome outdoor baby products
Related: The best board books to buy for a baby
Do the things you enjoy as a couple or family
If you like biking, go biking, if you like eating out, head to your favourite restaurant. Do the things you love now because soon you won't have the time or energy. If you can afford it, a break away is great in the third trimester.
If you're determined, you can still do many of the activities you enjoy with a newborn but it's hard to motivate yourself when you're exhausted. It's also natural to be focussed on the new baby for a while so give your older kids plenty of attention now before you turn into a mama-zombie!
Their lives are going to change too so talk to your older children about what to expect when the baby arrives. It's also a good idea to talk about the birth and what will happen to them when you go to have the baby.
Some parents like to buy a gift for their older child from the baby to help the big one feel involved and special when all eyes are on their new younger sibling.
Related: Age-gap kids – what you must do for your older child
Spend time with friends and family
If you can muster the energy, go out for a few fun evenings with your friends and let your hair down! Soon, it'll be hard work to organise a night out – and you might not even want to – so make the most of your last few weeks before baby to do a bit of socialising and have fun!
Busy preparing for your baby's birth? Read these posts too!
12 easy ways to prepare your toddler for the new baby
15 awesome natural birth tips – for the birth you really want
Hypnobirthing – how it helped me have my best ever birth
What to expect from a labor induction
How to pee postpartum when it hurts like ****!